THE PATRIOT
Links to Previous Scripts & Dragoon-Friendly Sites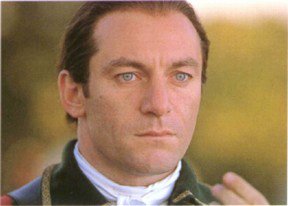 Who could possibly want to hurt this winsome creature?
There are a couple of previous script drafts on-line (it went through tons of rewrites and you could tell). The church-burning was originally just of the men, while the Legionnaires raped and murdered the women...
1998 Script in which the main characters have real people's names (how Ban is then supposed to have a long political career after being shot from his horse at Cowpens in that version, I don't know! And Marion was an old bachelor - he married late, post-war - not a paterfamilias). Harry started life as Lee, not the fictional Burwell, and it was suggested that the kid his wife was expecting was Robert... I suppose it was then pointed out to Rodat that Robert E. would have been way too old to be doing stuff in the 1860s had he been born so soon! And that Harry Lee was 2 yrs younger than Ban Tarleton, not a veteran of the 7 Yrs War!
1999 Script has Martin cold-bloodedly shooting Will with about 3 bullets, very slowly - in the shoulder, thigh, and chest - making him plead for his life and beg for quarter between times - AFTER Cornwallis's surrender at Yorktown...! Yes - the 'hero' is that much of a vengeful psycho!!! I think wisely it was decided that this might be too hard for the audience to acquiesce to... Nor can WE imagine Will begging for mercy. He's more likely (as Nikki suggested) to say something like, "Meet you in Hell!" It did occur to me that this scene might derive from the death of Turnus in the Æneid, but perhaps it's optimistic of me to suspect Mr Rodat of a Classical education...
See also Marg's wonderful website, Oatmeal for the Foxhounds
(with small contribs by yours truly):
Curious (and brave) readers may be interested in The Patriot: Official Site which includes a video trailer...
Return to Top