by Doc M (12/PG-13)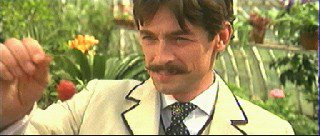 Young Mr. Stoke-d'Urberville had studied the Monty Python Guide
to Soft Fruit Self-Defence, but alas! knew naught of knives...
A Conan Doyle/Thomas Hardy cross-over story. Watson takes Holmes on holiday to the seaside resort of Sandbourne, in attempt to help him break his cocaine habit. They befriend their fellow guests, including young alleged 'honeymooners' Mr. & Mrs. Alexander d'Urberville. But their hopes of relaxation are shattered when their landlady reports blood seeping through her parlour ceiling from the room above, and Alec is found in bed, knifed in the chest...
Return to Top