"Trust me, I'm a doctor..."
Doctor WHO?

You are the first Doctor! Oh, you can be a bit
cranky, that's true. And your ego can be a bit
of a put-off at first. However, underneath that
sour demeanor is the heart of a true hero! Your
compassion for your fellow beings knows no
bounds, and you'd happily sacrifice your life
to save another.

Which Doctor (from Doctor Who) Are You?
brought to you by Quizilla
Well, not exactly... (but you can drop the 'sacrifice' bit, mate!)
- But who IS this intrepid time-traveller, faerie godmother and 'samovar warrior' known as 'Doc M'?
My Samovars...
Mission Statement/Author Note:
"The only way to atone for being occasionally a little over dressed is by being always absolutely over educated."
Oscar Wilde, 'Phrases and Philosophies for the use of the Young', Chameleon, Dec 1894
Who shall sound the Silver Whistle?
- Who'd say I'd not, I would sound it,
Who 'd say I'd myself not sound it...?
Despite an outwardly normal home-life in East Yorkshire, Stirlingshire and Fife, I was never exactly mainstream: by 14 I was a confirmed Beardsleyite. An unapologetic Æsthete, my first independent purchase as an undergraduate was a peacock-feather fan, the handle of which I covered in black velvet, adorned with a gold tassel (I have it still). I also still have a Japanese vase full of peacock feathers. Yes, I'm a '90s person - an 1890s person! Too tall to be an official Time Bandit, I became a historian and art historian. Regular employment proved elusive for some years, despite considerable efforts, and has once more slipped from my grasp after 3 years working in arts/heritage co-ordination.
But in the intervening decade... My own sense of being embattled in the war against utilitarianism and 'Mundania' (especially in the Thatcher years, when I began to feel that I was living in exile in a country I no longer recognised as home) fuelled the idea of setting up - as a kind of metaphor - a rescue-centre for historical flotsam and jetsam on-line. For Whistle-World, I gathered up the improbably-chivalric-but-real, the immortally wounded, and even the occasional fictional literary or film character; slung them over my metaphorical saddle-bow, and gave them lots of TLC. Besides my 18C soldiers, to whom Whistle-World owes its name, you'll also find among my patients some dashing mediæval knights, the odd(!) consumptive artist, a joli laid (all right, if I'm honest, Concorde-nosed and sour-looking) cavalry expert, a doe-eyed, much-abused Russian prince, a duelling poet, & c. My motives are entirely honourable, however, as I'm an AVEN-lady (see the pretty spectrum bar below). Admiration of virtue and beauty is free.
Poets I love: the Occitan trobadors, Lorca, Rilke, Yeats, Villon, MacLean, Lermontov, Mandel'shtam, Tsvetaeva, Villon
Films I love: swashbucklers, Istvan Szabo, silents by Alla Nazimova, Erich von Stroheim and the German Expressionists, Powell & Pressburger (especially The Red Shoes, which has one of Cinema-land's most inspiring and - at least according to my values - loveable heroes), Thorold Dickinson, Max Ophüls, Sergei Eisenstein, Baz Luhrmann, Peter Jackson. For the past few years I have also had a major penchant for Adrien Brody, who definitely needs to swashbuckle more...
Speaking of which...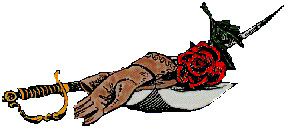 I am Cultural Attaché to the Ruritanischer Widerstand im Exil (Ruritanian Resistance in Exile) - a small group of swashbuckling literary subversives who read the Anthony Hope novels differently.... After all, yrs truly can't resist intervening when a 20-something left-wing tubercular brunet ends up on the wrong end of a sword... ;-D It's also easier to be optimistic as a political subversive in a fictional realm...
Return to Top

"...an ashy clinker from the long dead fires of Bohemia."
Quentin Crisp, The Naked Civil Servant