The Birks of Endermay (or Invermay)
lyrics by William Malloch or Mallet
This charming song, published in William Thomson's Orpheus Caledonius (1733), will always be associated with the tragic story of Captain Willie Leslie. It was the song with which his sister Lady Jeany won the heart of an American student, Ben Rush, in Edinburgh in 1767, and it was through Rush's association with the Leslies that Willie was given proper burial at Pluckemin, NJ, in 1777. Funnily enough, Invermay and its birks were inherited by Jeany's descendants, via the sister of Will's friend Alexander Hepburn-Murray. Small world!
As The Birks of Invermay, it was also the song sung by the poet Robert Fergusson as he was dying in the Edinburgh madhouse at the age of 24, from a head injury.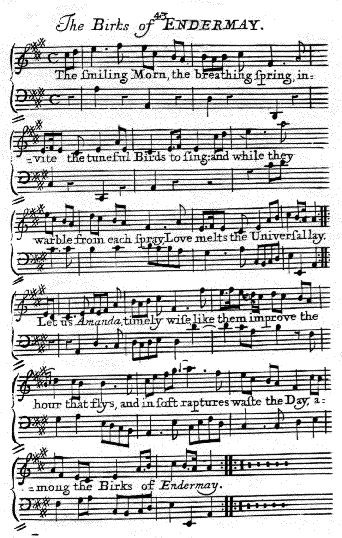 The smiling Morn, the breathing Spring,
Invite the tuneful Birds to sing:
And while they warble from each Spray,
Love melts the universal Lay.
Let us, Amanda, timely wise,
Like them improve the Hour that flies;
And in soft Raptures waste the day,
Among the Birks of Endermay.

For soon the Winter of the Year,
And Age, Life's Winter, will appear:
At this, thy living Bloom will fade;
As that will strip the verdant Shade.
Our Taste of Pleasure then is o'er;
The feather's Songsters love no more:
And when they droop, and we decay,
Adieu the Birks of Endermay.
Return to Top

'S co sheinneas an fhideag airgid?
Co theireadh nach seinninn, sheinninn,
Co theireadh nach seinninn fhin í?