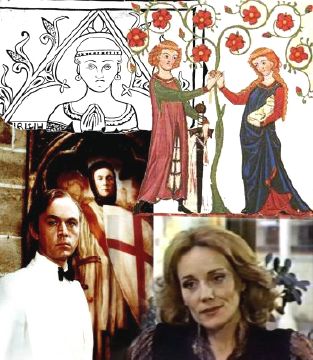 A bittersweet Gothic rom-com sequel to the 1983 BBC serial. Raoul is a 700–year–old immortal ex–Templar who needs a psychiatrist. Ismini is a psychiatrist with psychic powers. A perfect match? Well, he has widowed and seduced one of her friends, and tried to kill another, and she has already stabbed him to death (but not permanently!)… It's an unusual way to start a relationship.
This story attempts to fill some of the logical plotholes in the original serial. How is a curse meant to work when the intended victim knows that it is impossible, and when the curser also knows that the victim knows? Would a man who had killed his lover in cold blood still be so besotted after 700 years as to keep her picture on desk, cherish her jewellery, and take uncharacteristic risks to possess her look-alike? We never learned Raoul's version of events…
I was disturbed by the original's presumption of Templar guilt. The charges were dubious, and the methods used to extract confessions brutal. Anyone who passed through that terrible universe of show trials and torture (foreshadowing 20C horrors) would have been deeply damaged, mentally and physically. At the same time, the uncertainty over the fate of the Cyprus Templars is a gift for this fandom.
Strong language occurs only once or twice. There is no explicit sex, but there is brutal violence (in flashback), and explicit references to torture. Sadly, this is inevitable, given the historical back-story.