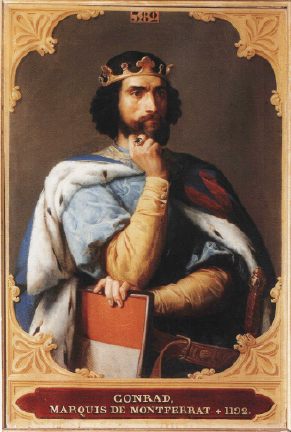 It's funny, I'd forgotten some of the finer detail of this until my memory was jogged re: The Talisman while writing an article about English-language depictions of Conrad for the Nov. '05 issue of the Bollettino del Marchesato... It really was 1981 when I first carted the hardback vols of Runciman's History of the Crusades home from the public library in Hull, as a geeky, slightly eccentric teenager...
The BBC broadcast a serialisation of The Talisman over the winter of 1980-81, and that was what first got me into the Third Crusade in my late teens (we hadn't done it at school). It was so strange that I thought that: a) Scott must have been doing a lot of laudanum at the time, and b) the reality had to be interesting. I got curious about one of Scott's 'villains' (blame my over-developed h/c complex), decided to follow up his real story, and the rest, as they say, is Mediæval History...
...And was also why I did an 'O Level' Italian course (non-exam) in the Sixth Form. In fact, in class we each (there were about 6 of us) had to give a short talk (in English) on a celebrated Italian. Most people picked artists and composers. Guess who I did...?!!! (OK, not very celebrated. But he ought to be, poor dear!) I opened it saying that this was to prove that between the fall of the Western Roman Empire and the Renaissance, the Italians were not just sitting around bored and doing nothing! ;-D It's also because of Conrad that my passion for the trobadors was first kindled, and the gai saber philosophy of joia, pretz, valor and cortesia put in my heart...
And I still recall when I was a first year in St As in '83, drinking coffee in Lisa's room, listening to her Martin Best trobador tapes, and running past her a few paragraphs from what I had hoped would be a historical novel about Conrad. It was dire, and I'm glad I've turned to non-fiction: the poor man has suffered far too much at the hands of bad novelists.
Return to Top